it goes like this...
my cousin josh and his girlfriend of 10 years, jen, invited us to their wedding (a year ago the location was portland-about six months ago it changed to mexico city, aka burns, oregon...5 1/2 hours into the sage brush nothingness of eastern oregon) the wedding was this past saturday (august 25th). knowing that it would be a little po-dunk sister and i figured we would at least get some good laughs in especially with the cousins driving up from sanfrancisco to meet us...however we had no idea it would end up quite as amazing as it did...
we left friday morning at 9am. cousin david drove with us. josh had given my dad "directions" via a shortcut so we wouldn't have to go through salem and into bend on a friday during traffic...instead we took the mt. hood route putting us past the indians in kah-nee-tah through primeville, basically just hella back roads...the "short cut" took us on this...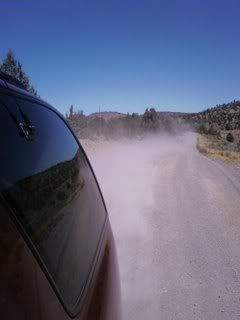 a 42 mile gravel road...the "short cut" took us 6 hours (versus the 4.5 hours it took us to get home on the other road)
our hotel (if a best western is considered a hotel)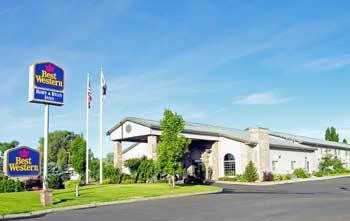 was actually pretty decent...and coincidentally it was the pitstop for all the other out-of-town guests...probably because it was the only hotel in burns. josh and jen also stayed their on their wedding night...totally normal, not awkward. on an up note the apple peddler was in the parking lot of the hotel, a decent restaurant we ate breakfast at...sister and i even saw a guy coming out of the bathroom (public bathroom...) with a stack of newspapers...very classy restaurant.
in keeping with the trend of classy...the wedding...really there are no words, the best one i can think of is priceless. the kind mastercard would use at the end of it's commercials. it was probably one of my best times ever. and if i were writing a book on my life, i would be able to write a whole chapter on this wedding ceremony/reception alone (stories for days...) but i will summarize in via short headlines. old school bus driving/fitzergerald going/emphysema talking photographer who i saw take only about 5 pictures (she was good at standing in the back corner with a beer showing off her long rat trail braid made of about six hairs down to her waist), center pieces consisting of plastic bowls of peanuts chinese after dinner mints (the kind that are pastel and melt in your mouth) peppermints and best of all atomic fireballs (the container with the extras was on the cake table in case you needed a few more) but also on the center pieces were
fish bowls with floating candles...
**note-notice the small fire burning from the light reflecting off the sun on the table cloths...
food, well due to the mexican caterers cancelling a week before the wedding the new food was catered via

from costco...guests enjoyed the feast served directly off of the black plastic "platters" thrown in free by costco, champagne toast courteous of lable brand cooks,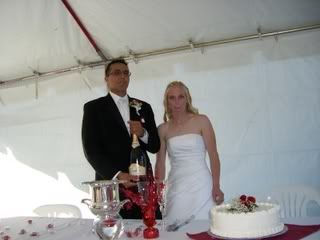 and a dj that rocked the old school jams of usher "yeah yeah yeah," "brick house," "save a horse ride a cowboy," "we are family," and of course props to owen and vince what is a wedding party without "SHOUT!" my cousin kayvahn even scored a phone number, email, aim, and myspace account name from millie gilmore of salem in her levis, white new balances, and red 4th of july old navy flag tank top (that is an entire story of its own...)
as promised here are a few more pics
my baby cousin shayla (she was the flower girl i did her cute hair!)
josh, jen, allie and i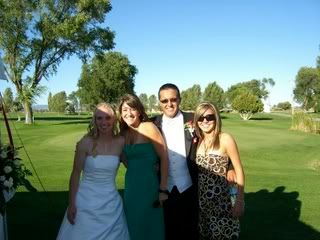 my mom, hosain (my dad's cousin's husband), and kayvahn
the view beyond the green grass of the reception..my sister, kayvahn, and i posing with the shrubs
...my family is the best of my life...all 12 of us. burns, go there. cause really you don't understand until you try it yourself.