this blog should have been written about 4 weeks ago but i just recently have had time to sit down and put my pictures on my computer from weeks ago (due to moving, vacations, teaching dance camps...) anyway my life is sorta on a normal routine finally again and therefore i have more time for things like blogging and pictures
**note-i added some pictures of the wedding to help make your imagination really fathom the beauty of as cousin david called it "broke-back-burns"
anyway...purpose of this post...moving out of my house (and into my parents house-which is entitled to it's own post...or several posts of their own) so we will make this simple in that moving always means junk/garbage/and crap...EVERYWHERE! times this by 10 and that is what it is like to move out of a college house...thankfully my sister is only a sophomore and knows lots of boys who are renting houses for the first time and in need of "furnishings," graciously we allowed them to haul out the broken piece of shit dresser i have been hauling around with me since my freshman year in the dorms, jordie's bed that wouldn't fit in her suit case she was taking with her to germany, a dresser from ashley's room, the kitchen rug, the living room rug, adams old tv dvd player and tv stand from the spare media room in the basement we NEVER used, meme's desk, and a mini fridge...apart from these we put the rest of the house junk on the front yard with a big FREE sign.
we had a few cholos come by and check out the goods, a fight between a man and a woman over one of jordies dressers, but our favorite customer was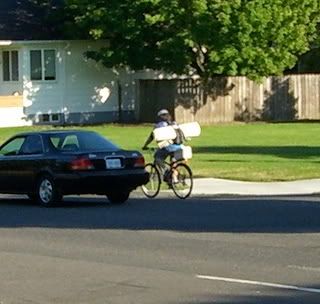 a bumb who strapped the flower rug from the upstairs landing (outside my room) on his back and rode off on his road bike.
we had a few troubles getting rid of the last couple items so i decided to gift the neighbor boys down the street with a broken chair from the dinning room...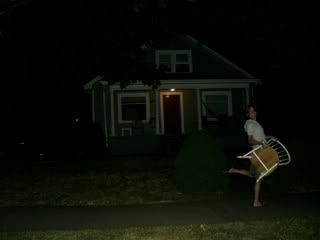 and this is me sitting on their front porch ...it looked great up there with the other 8 random chairs and a hammock they had.
it was sad to see all of our stuff go, but at the same time it was comforting to know that it all went to good homes (although kerry and i still aren't sure where the bottom white mattress cover sheet left over from kenna dorms ended up...it was on the yard with the free sign before we went to t-room and when we got back it was gone...hopefully it to is in a good home..)... missing the yellow cottage on williamette.