last night was jessica's 22nd birthday celebration, so of course, we had a reservation for 12 at widmeir! amazing as usual! however, as the night progressed and we encouraged jessica to continue drinking she was ever so kind as to bring up her conviction to not reach the point of drunkin-ness where she was ordering vodka tonics from the taco bell drive thru window...(i'm sorry ok! it was my birthday and i had every right not to be in my right mind!--but i will admit ...a vodka tonic? i don't even think i have even had one of those before...i don't know what motivated me to ask for one at a drive thru..it's whatever though ha)
well once that was brought up...jordie reminded me and everyone else of how on the way home in the car they would yell something at me and i would try and act like it for a picture...for example...chance from homeward bound...well by the time the group ventured out of widmeir and up to mint, the slight intoxication by everyone justified why we thought it would be funny to do it again right?
not only were we chance from homeward bound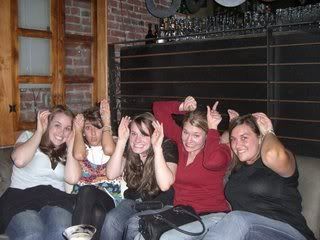 but we became the weather
asians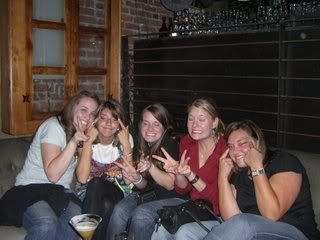 america's next top models, penguins, gansters...i can safely say our waitress was not impressed by us at all...but it was a successful birthday party...and though the success was not judged by the indulgence of taco bell...her ralphing at 7am proves it was a good night!