meet charlie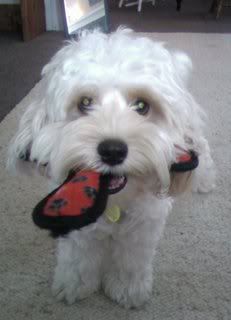 he cares about three things in his life
1. insuring that he doesn't get locked in the bathroom
2. not letting anyone walk in front of our house without barking at them
3. eating every tassel off of the red blanket that is now hiding behind the couch
charlie is our house guest this weekend...well he has actually been here since wednesday...and he leaves tomorrow...but since stelly has been gone i've been having small dog withdrawls...so its been great having a little scruff running around the house again!
thankfully tula ...
...at the office (erin's dog) has helped with my addiction...however it was a very sad day wednesday when i had to say goodbye! she is moving to seattle with erin. tears.
so now that stella and tula are both gone...and charlie leaves tomorrow...it's official i need to get a dog of my own.