yeah that's what sean (the big boss guy at my work) told me about five minutes ago when he came into my office...
um totally rude.
i'll tell you why it looks interesting...it looks interesting because there are shreds of k/crinkle paper on the ground, bits of dried hops, a bag of dead lavender, empty cardboard boxes, a stamp pad and piles of green envelopes...and now i will tell you why it is all there...it's there because two of our clients decided it would be a good idea to have invites go out to events on the same day...the same day that heather (my go-to for EVERYTHING/boss/and awesome partner in crime) is gone, the day that john (the go to guy for bridgeport) is gone...and also the day that, well whatever...i can't think of another also but it was a stressful day and it needed to have another also so i'm just putting it in...
anyway, i stuffed hops , k/crinkle paper, and invites into 107 boxes that i stamped with bridgeport logos, made 30 invites with hand crafted lavender bundles for le tour des plants, printed off tons of mailing address labels, and i stamped, stuffed, and sealed 400 paper envelopes (ok...lying...because evie and jill were in the neighborhood, knew i was having such a blast up here and both became virgin mary miracle angels of swine wrapped 6lb can't even speak a word baby jesus,' and helped me seal and stuff the envelopes...not enough thanks for them because at the end of yesterday i was about ready to rip out my hair). but honestly one human could never have done it themselves...i can't even think of good words to describe yesterday's day that would even begin to make a dent into the craziness of it...our messenger service alone was enough to drive a person crazy as over a dozen different individuals came in to collect a few boxes here a few boxes there to slowly deplete the pile of 47 million boxes and disperse them to random locations around portland...while i am on the topic of spitting out thanks to friends, i owe huge thank yous to our front desk worker who i self proclaimed as my personal assistant for the day...she was awesome and kindly made my labels and packaged my fed-ex deliveries for me as i ran between delivery dudes, envelopes, and phone calls.
this was my work
le tour des plant invites:
bridgeport boxes: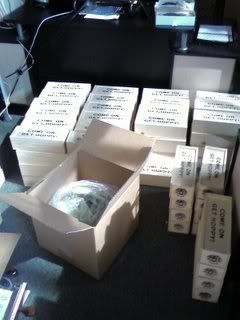 and im dumb and forgot to take a picture of the envelopes because that was the best sight ever...(think 400 green envelopes scattered EVERYWHERE) but whatever cause i was totally over them...power to the tillamook cheese assembly line workers because if i had to stand and do the same thing all day everyday 400 times in a row my 401st slice would not be on the block of cheese...it would be in my eye balls due to insanity.
i did good work yesterday...so my office can just look interesting i'm over it.